Instead of description we present here some reviews from hotel guests.
Official hotel website: aegeanview-santorini.com
Phone: +30 2286032790
Fax:+30 2286034187
Book online: Book online Aegean View Hotel Santorini
"Fourth time"
Fantastic hotel. Just returned from our fourth time and have booked to go back next year. Lovely rooms and very clean. The breakfast by the pool in the morning is lovely. The family is so nice. The views are fantastic from the hotel and a ten minute walk to the beach. Can't wait to go back next year.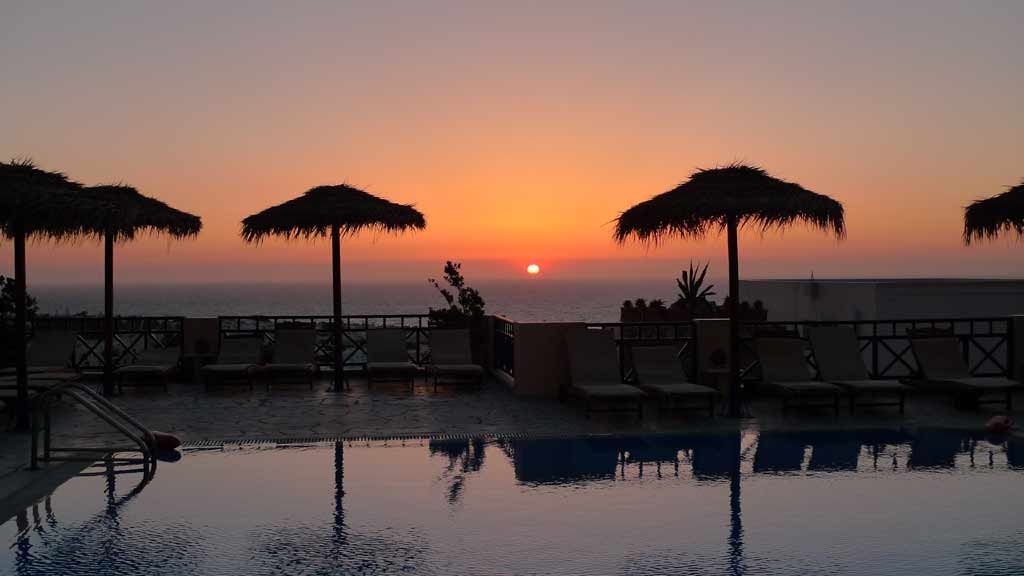 "Fantastic experience – Bravo"
Excellent location at top Kamari with only a short walk to main street with all the restaurants and boardwalk. Rooms are nice and clean with great views and owners will do anything to make you feel home. We (family with two 6 year olds from the US) spent a week there and enjoyed every minute. Absolute winner. Bravo.
"Great little Hotel"
This hotel is in a great position just up the hillside above Kamari just far enough away to make it peaceful but only five mins to the centre of Kamari. Nothing is too much trouble for the friendly staff, our room was large and we had clean towels every day our room was spotless, this is the only place we would stay in Kamari.
"Friendliest hotel I have ever stayed in"
This is an excellent value for money hotel on the beautiful island of Santorini. The hotel is situated about 5/6 mins walk from the start of the beach, although it is up quite a steep hill, so it probably would not be suitable for the elderly or disabled. The rooms are big and clean. Although the pool area is not large there was never a problem getting a sun bed. The main attraction with this hotel is the staff. It appears to be a family run hotel, and everyone is exceptionally friendly, and more than ready to go the extra mile to make your stay as comfortable as possible.