Instead of description we present here some reviews from hotel guests.
Official hotel website: www.villarenos.com
Phone:
Fax: +30 22860 24041
Book online: https://villarenos.cosmores.com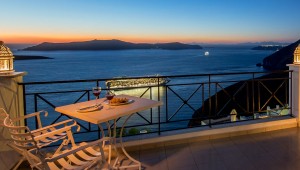 Highly Recommend!
We loved our stay at the Villas Renos! The hosts were amazing, provided excellent advice as to where to dine, etc. and were most welcoming. The location was perfect for us, as everyday we went on a adventure to escape the craziness of Fira when the ships were in, and this was a quick walk to the bus stop. We LOVED our suite, there were many stairs to access it but it was worth it for the amazing view of the caldera and privacy. The breakfasts are AMAZING, I would typically not eat four courses for breakfast but everything was so good I could not help myself. Highly recommend Villas Renos!
The perfect place to stay!!!
It was an excellent experience! Beautiful place, perfect view, excellent and truly service!! The food was also delicious. The rooms were clean,beautiful and comfortable! I also really enjoyed the perfect view of the Aegean Sea and the volcano from the balcony of my room!!!! No words can describe it!!!!
Location+Ambiance+Service=Impeccable
I will start off with- Book in Advance.
Location was Ideal. Best view ever.
Rooms were spacious SUPER CLEAN!!
The AC works amazing 🙂
The Breakfast every morning makes you want to just add another night to wake up to delicious-ness!!
What made our stay special, Vasilis, went above and beyond to make sure my husband and i were happy! he also helped book another room needed for our friends. Vasili, recommended we book our domestic flights early as well as a catamaran cruise around the caldera, a must do!
Santorini is a breathtaking island..as soon as that sun starts to set.. the emotions you feel, i cant describe. Just go!! No Where on earth is like this island. just memorable and amazing !! Most people will say- 'don't stay more than 3 nights' This is a lie. Stay as long as you like. I'd say a minimum of 5 nights.
Best place to stay in Santorini!!
In the first week of October 13, my wife and I had the opportunity to spend 4 nights at Villa Renos. In short, it was simply stunning and was the highlight of our 4 week Europe experience. Villa Renos is perfectly positioned in Fira, central to everything that is important and has the THE BEST view of the caldera. The most impressive feature is the unique "family" service. This wonderful family, with host Vasilis, makes everything so easy from arrival to departure. In particular, the home made breakfasts are sensational with every day being a fantastic surprise….not your usual hotel breakfast!!
If you want to enjoy Santorini and have a unique experience, please stay at Villa Renos…you will not be disappointed. Ideal for groups or couples with over 3 levels, all with stunning views.