Instead of description we present here some reviews from hotel guests.
Official hotel website: athermisuites.com
Phone: +302286083272
Fax: +302286028892
Book online: Book online Athermi Suites
"Checks all the boxes.. Wish I was still there!!"
This place had gorgeous views, an outstanding pool, great staff, very clean and cool design. Really wish I was still there!!!!! This is definitely the place to go if you're on a romantic trip, the staff are very accommodating. You'll want to have a rental car or scooter to make day trips easy. I would caution that if you are on the island with friends, if your friends are not staying at the resort they are not allowed to visit. That being said, the hotel was very accommodating and made an exception.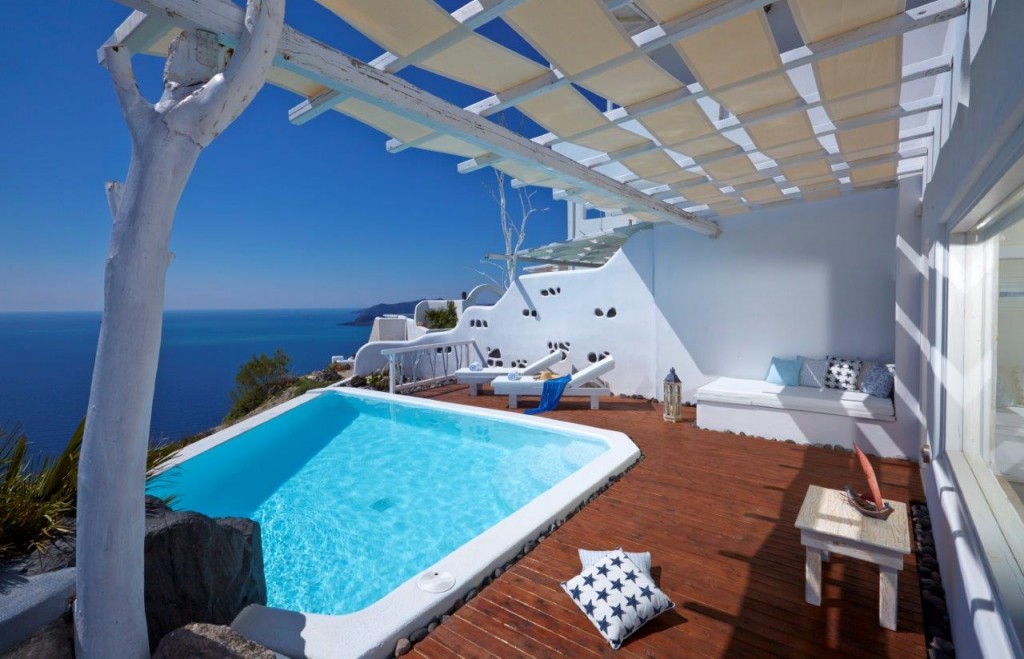 "It was amazing"
Perfect hotel! Nice girl working on the recepsion desk. Big variety of food at breakfast and it really taste.
We have ordered a Honeymoon suite but staff give us at luxe suite with private swimming pool and jacuzzi!!! Owners of the hotel very friendly. They took us free several times to Thira. All furniture is handmade and very romatic! Location is perfect its bus station in 100 methers and it really quite there
Thanks a lot for perfect honeymoon!!!!!
"Highlight of our Trip! Stunning."
The most beautiful place we have ever stayed in all of Europe or Greece. The view was unbelievable Warm friendly staff and owners. Fabulous room, extra large private balcony, to watch the most amazing sunsets. Really nice features, air conditioning , wifi, plenty of outlets, dressing table, great large bathroom & shower, mini fridge, safe.
Plus a delicious dinner at there restaurant and pool side bar. I will never stay anywhere else in Santorini. We had a romantic suite, but there are also suites with there own private hot tubs or pools.
Maria, Kosmos and Olympia where so nice to us. I can't say enough!
Loved it and you will too. Perfect, Thank you.
"Magical – A must visit"
I am a well traveled person & have been lucky enough to have stayed in some awesome places around the world but I must say this place is the best I've ever stayed due to the best views, friendly service, amazing food mmmmmm all I can say is if you ever travel to Santorini this place is perfect as its out of the rat race, it's quite & the staff can't do enough for you. This is a place for couples, I wouldn't suggest young children as most villas over look cliffs. The views & sunsets are spectacular.
For further information here