Aerial view of Academy, University, Library – Athens – Η Ακαδημία & Πανεπιστήμιο από ψηλά
1) The Academy of Athens is Greece's national academy, and the highest research establishment in the country. It was established in 1926, and operates under the supervision of the Ministry of Education. The Academy's main building is one of the major landmarks of Athens.
2) The University of Athens was founded on May 3, 1837 by King Otto of Greece (in Greek, Othon). It was the first university in the liberated Greek state and in the surrounding area of the Southeast Europe as well. It was also the second academic institution after the Ionian Academy.
3) The National Library of Greece is situated near the center of city of Athens. It was designed by the Danish architect Theophil Freiherr von Hansen, as part of his famous Trilogy of neo-classical buildings including the Academy of Athens and the original building of the Athens University. It was founded by Ioannis Kapodistrias.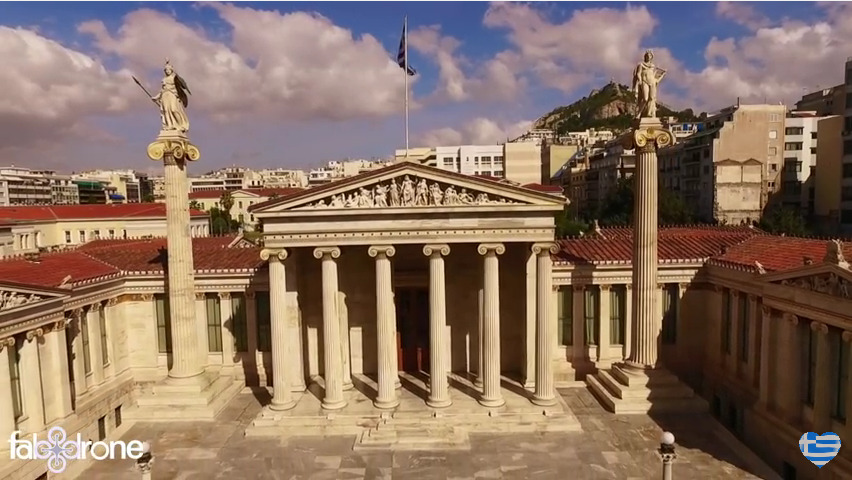 1) Tο νεοκλασικό μέγαρο στο κέντρο της Αθήνας το οποίο στεγάζει την Ακαδημία Αθηνών, χτίστηκε αρκετές δεκαετίες πριν από την ίδρυση της ίδιας της Ακαδημίας. H λειτουργία της Ακαδημίας διέπεται από τον Iδρυτικό της Nόμο 4398/1929, με τον οποίο κυρώθηκε η από 18 Μαρτίου 1926 Συντακτική Aπόφαση περί Oργανισμού της Ακαδημίας Αθηνών.
2) Το Πανεπιστήμιο Αθηνών, αποτελεί Ανώτατο Εκπαιδευτικό Ίδρυμα που δραστηριοποιείται στην Ελληνική πρωτεύουσα. Λειτουργεί αδιαλείπτως από την ίδρυσή του στις 3 Μαΐου 1837. Σήμερα είναι το δεύτερο μεγαλύτερο Πανεπιστήμιο της Ελλάδας σε αριθμό φοιτητών (μετά το Αριστοτέλειο Πανεπιστήμιο Θεσσαλονίκης), με περισσότερους από 50.000 προπτυχιακούς φοιτητές.
3)Το 1829, ο Κυβερνήτης Ιωάννης Καποδίστριας υλοποίησε την ιδέα ίδρυσης Εθνικής Βιβλιοθήκης της Ελλάδας και συμπεριέλαβε τη Βιβλιοθήκη μαζί με άλλα πνευματικά Ιδρύματα όπως Σχολεία, το Εθνικό Μουσείο και Τυπογραφεία στο Ορφανοτροφείο της Αίγινας.
Η βιβλιοθήκη λειτουργεί ως εθνικό βιβλιογραφικό και πληροφοριακό κέντρο της Ελλάδας με κύρια αποστολή της να εκδίδει την αναδρομική και την τρέχουσα Ελληνική Βιβλιογραφία, στην οποία καταγράφεται επίσημα η Εκδοτική Παραγωγή της Ελλάδας και παράλληλα, να παρέχει στο κοινό πληροφορίες σχετικές με τις επιστήμες και τον πολιτισμό που συνδέονται με την χώρα, μέσα από τη συγκέντρωση και την οργάνωση αλλά και την σωστή διαφύλαξη αυτών των πολύτιμων και σπάνιων τεκμηρίων.