Instead of description we present here some reviews from hotel guests.
Official hotel website: www.mykonosview.gr
Phone: +30 2289024045 – 2289026626
Fax: +30 2289026445
Book online: Book online Mykonos View
"Luxury hotel close by city center"
I was there in summer so, as expected, room rates were really high..But service was perfect! Huge and Clean rooms , awesome breakfast! Gorgeous pool with a delightful sunset view. My only complain about the hotel was that the pool closes too early (just after sunset… And, if you spend the day at the beaches, you won't be able to enjoy it…). But everything else was perfect! Staff was really nice and thoughtful and we could even leave our rented car at the hotel to the rental company to pick up their! Amazing! I definitely recommend it!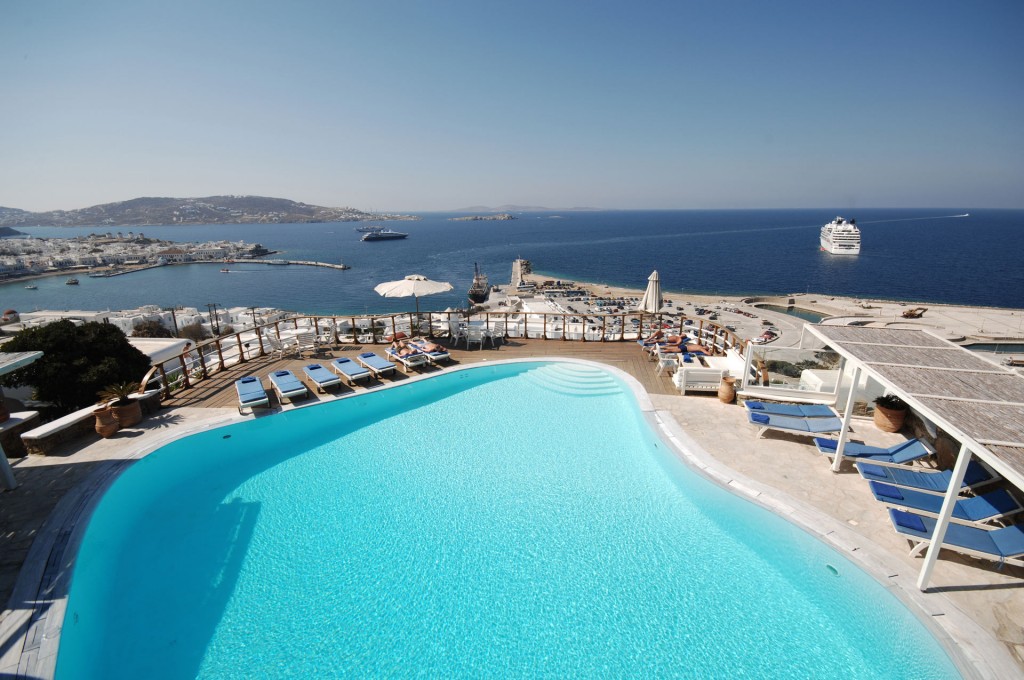 "Beautiful view"
Great location, beautiful view of the sea and super friendly hosts! Delicious food at breakfast and any time at the restaurant, I recommend for couples or families! (they do have a lot of stairs, but if you don't have any mobilities issue that's fine, just a little exercise!)
"10/10 … Best service I've experienced in years, amazing hotel"
This was one of the best hotels we've ever stayed in… We are both experienced traveler staying in many hotels around the world. The breakfast was incredible. The hotel had a very relax warm homely feel , making you feel instantly relaxed. The interior was 10/10 this coming from an interior designer. If you can secure the room with the Jacuzzi outside, get this room. So so amazing…… Definitely going back next year.
"Amazing"
Couldn't have found a friendlier or more beautiful hotel. Couldn't fault it. Helpful staff, delicious and plentiful breakfast, clean and cool rooms with a stunning pool and view. Would rather not have left!
The location is great because it's very close to town – maybe 5 minutes walk – and a taxi ride from the beaches. We like to be able to walk to dinner and decide each day if we wanted to go to the beach or stay by the pool. The only reason you wouldn't stay here is if you are a serious beach lover and want to be next to one!
For further information here