#Santorini best #island in the world @ Travel + Leisure 2014 awards!
Santorini was voted from the readers of  Travel and Leisure (T+L) magazine as World's Best Island for 2014.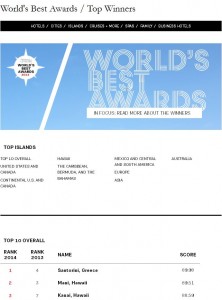 The Cycladic island with the amazing landscapes of the caldera bay, the romantic sunsets and the picturesque villages, got 89.98 points, while the second island Maui got 89.51 points. Santorini last year was on the fourth place of T+L best islands list.
The island also won in the Best European Island category with the score of 89.98, above Capri's 85.36 and Crete's 84.30 points. Crete and Mykonos took the third and fifth place respectively among European islands. In last year's poll, Santorini took the fourth place, while Crete maintained the same ranking.
Travel + Leisure is a New York-based monthly publication with an estimated 4.8 million reader worldwide. According to T+L:
"For the 19th annual poll,we asked our discerning readers once again to cast their votes for the hotels, destinations, and companies that define the very best in travel. The result? One of our most robust lists to date, with new categories including top hotel brands and airports."
For the record, here's the list of the Top islands in the world, according to the magazine's readers for 2014:
Top 10 Overall                                                   Score
1 Santorini, Greece                                      89.98
2 Maui, Hawaii                                                   89.51
3 Kauai, Hawaii                                                  88.59
4 Hawaii, the Big Island                                  87.89
5 Bali, Indonesia                                               86.82
6 Oahu, Hawaii                                                 86.71
7 Galápagos, Ecuador                                    86.37
8 Virgin Gorda, British Virgin Islands        86.22
9 Vancouver Island, Canada                       86.20
10 San Juan Islands, Washington              85.78
Here is the page on Travel + Leirure: http://ow.ly/zqli4
Travel + Leisure, a New York-based monthly magazine with 4.8 million readers worldwide, voted Santorini in the southern Aegean Sea, Greece, as the World's Best Island for 2014.
The Greek island gained the first place with a score of 89.98 leaving behind other exotic destinations such as Maui, Hawaii (89.51) and Bali, Indonesia (86.82). In last year's vote, Santorini ranked 4th. In the Best European Island category the island of Crete ranked 3rd with 84.30 points and Mykonos 5th with 82.55 points.
The volcanic island of Santorini has topped many international and European lists thanks to its beauty. Stunning beaches, picturesque streets with white-washed buildings, luxurious resorts with amazing views to the Aegean and the famous sunset in Imerovigli are a poll of attraction for both Greek and foreign tourists. More than 1.5 million tourists are estimated to visit the island, which has a population of around 15,500 residents.
The world's top 10 islands are:
1. Santorini, Greece (89.98)
2. Maui, Hawaii (89.51)
3. Kauai, Hawaii (88.59)
4. Hawaii, the Big Island (87.89)
5. Bali, Indonesia (86.82)
6. Oahu, Hawaii (86.71)
7. Galápagos, Ecuador (86.37)
8. Virgin Gorda, British Virgin Islands (86.22)
9. Vancouver Island, Canada (86.20)
10. San Juan Islands, Washington (85.78)
– See more at: http://greece.greekreporter.com/2014/07/15/santorini-voted-best-island-in-the-world/#sthash.2IeoBxpK.dpuf
Santorini Voted Best Island in the World