Instead of description we present here some reviews from hotel guests.
Official hotel website: Abyssanto Suites
Phone: +30 22860 24136
Fax: 30 22860 24861
Book online:  Book online Abyssanto Suites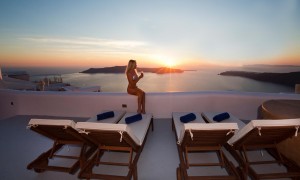 Wonderful hotel
We spent there the Best days of pur Honey moon and this Was clearly for the love that blesses us but Maria , the service and this wonderful and Well organized hotel helps us to keep in our heart and minds the Best memories of our lives. Thanks a Lot to all of you and If you choose a holiday in santorini , our advice is to Book abyssanto! !for sure! Milena and Michele
Everything perfect
Very beautiful hotel, with great, breathtaking view. We stayed at Anemos Superior apartment. The room was big, nice and always very clean. The breakfast was very good and everything fresh. The staff, especially Yiannis, was very friendly and helpful. We would deeeeeeefinitely come back!!!!!
Tranquillity & Great Service
We just spent 7 wonderful days in Abyssanto Suites. We stayed in the Volcano Suite, fabulous views, quiet and tranquil, spectacular lighting inside and out and a quiet cave to sleep in. The staff and service we had during our stay were really excellent, whatever we needed (car hire, airport transport, day trips….extra morning coffee) they were there to help and always with a smile.
Beautiful views and villas
We stayed here recently with our young son. The villas themselves weren't the biggest but we still loved the colors, decor and it had an authentic greek feel to it. The inclusive breakfast was really impressive. The service was also fantastic especially the manager Tekkas who helped us with everything including hiring a car and getting ferry tickets to another island. The most impressive aspect was the Jacuzzi which overlooked the Caldera. I do advise on hiring a car if you stay here though, it is too far to walk to Fira every day and buses and even taxis are hard to come by.
Abyssanto Suites @ Sunset 2015