Unique Easter experience in Paros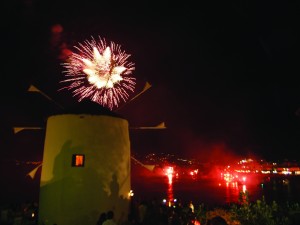 The impressive tradition of representation of Christ Passions in  procession of the Epitaph in the mountain villages of Marpissa, Marmara,  Prodromo, Lefkes and White Village will be revived this year, giving  the stigma of uniqueness in terms of entertainment and  devoutness in the island of the Cyclades.
Guests will have the opportunity, during the Epitaph,  to live together with residents, live images of the Passion of  Christ where children dressed as Roman soldiers or disciples  Christ depict scenes from the entrance to Jerusalem,  the "Last Supper," the torment of the Crucifixion, etc., while in each  one of 15 stops the rotation will dramatically lit and  a point of the mountain.
On Saturday night the custom culminates in the resurrection  re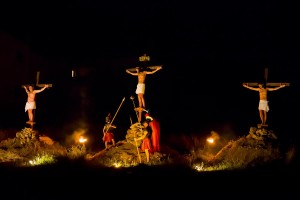 presentation  in a dazzling atmosphere of thousands of candles  and countless fireworks illuminating the majestic Aegean sky.  On Easter Sunday the festivities continue, with both  Feasts and twinge of lamb, and with the "burning of  Jew "and the" Easter Love", where many  parts of the island offered to guests food and wine,  while local orchestras excite attendees with  romantic songs of "Cradle".
The Program of festivities
PAROIKIA
Parishes of Ekatontapyliani, Zoodochou Pigis and Archangels
M. Friday
10:00 pm The sequence of I. Epitaphs
11:50 pm The output of I. Epitaphs
00:45 pm The sequence of Agios Vasilios
M. Saturday
11:00 pm The sequence of the resurrection
24:00 Holy Resurrection
NAOUSA
M. Friday
10:00 pm The sequence of I. Epitaphs
11:50 pm The output of I. Epitaphs
00:45 pm The sequence of Agios Vasilios
M. Saturday
11:00 pm The sequence of the resurrection
24:00 Holy Resurrection 
MARPISSA
Church of Metamorfosis Sotiros
M. Friday
10:00 a.m. The sequence of long hours
10:00 p.m. Esperinos Apokathiloseos
8:30 pm The sequence of the Sanctuary Epitaph
10:30 pm The output of I. Epitaphs
M. Saturday
7:30 a.m. The Divine Liturgy of Basil the Great
11:00 pm The sequence of the resurrection and the divine operation
Sunday of Easter
11:30 a.m. The procession The resurrection and the follow sequence of Vespers of Love
PRODROMOS
M. Friday
After Deposition Treats ("Sychorio") outside the church and at night in the procession Epitaph like every year representations – Passions of the Lord from children of the village
M. SATURDAY
7:30 a.m. The Divine Liturgy of Basil the Great
11:00 pm The sequence of the resurrection and the divine operation