Instead of description we present here some reviews from hotel guests.
Hotel website: Heliades Apts
Phone: +30 22860 24102
Fax: +30 22860 25587
Book online: Book online Heliades Apartments
"Wow what a view"
Stepped onto the balcony and wow what a view… Beautifully kept property (cleaner had OCD everything was so clean and well looked after.. Best maid we have ever had in Greece) breakfast was more than sufficient. Room spacious and good amenities . If mobility issues may not be ideal as bedroom accessed by a ladder (one room is available that is on ground level)
Every room has a great view and possibly the cheaper standard room has the best balcony although not adjacent to the room. We had room 4 and loved it. About 20 minutes walk from Fira and several good restaurants on the door step ( along with a mini market ) would go back in a heart beat.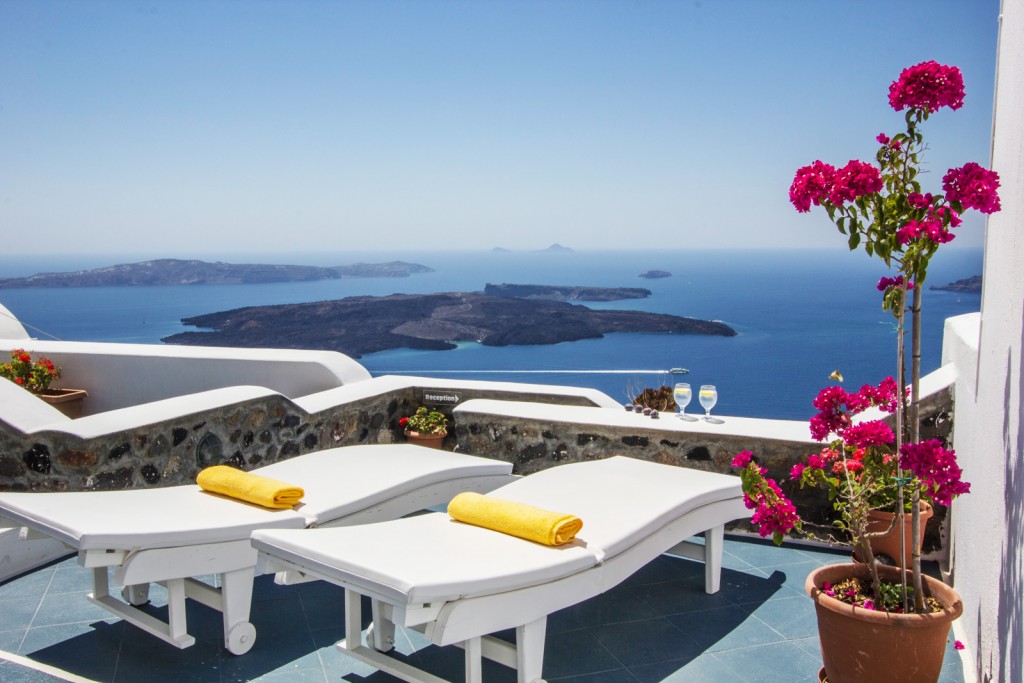 "Out of this world"
I have no other words to describe this place than incredible. Just incredible. We spent 5 days in this accomodation, super quality for the price you pay. Stunning view over the Caldera and the sunset with a beautiful and typical house. Olympia or the local maid bring you a super breakfast in the morning hours, and you won't forget your holiday.
Unbeatable.
"Heavens with a smile"
The hotel includes only 4 rooms, so expect a very personalized service. Room simply decorated with traditional style of the island with a beautiful terrace where breakfast is served. Olivia is always there with a smile helping with everything from bringing more water to arranging excursions and transportation. The most valuable asset of this hotel is the perfect location and uninterrupted breathtaking view of the caldera and the sunset. Several very nice restaurants are one step away. In a nutshell, the closest thing to Heaven
"A dream come true for us"
We planed a lot this vacation but it was worth it. And the place we stayed, Heliades Apartment, cotribuited a lot to the succes of this journey. The place is arranged with very good taste and is very clean. Ms Olimpia was a very good, pleasant hostess and very discreet. The view was outstanding ! We could stay on terase for hours and enjoy the Caldera view, day or night. Pictures are great, but reality is better ! The breakfast was fresh and very good in quantity an quality. The orange home made gem was my favorite. We recommend Heliades Apartments without doubt.
For further information here