Instead of description we present here some reviews from hotel guests.
Official hotel website: www.merovigla.gr
Phone: +30 22860 24967
Fax: +30 22860 24074
Book online: Book online Merovigla Studios
"We are in LOVE with Santorini"
Amazing staff, wonderful caldera view, lovely pool…all for unbeatable price. The owner, Alex, goes out of his way to make you feel at home.
The view from our balcony was so breathtaking we could've easily never left our room and been perfectly happy. The walk to Fira is also very scenic and only takes around 20 mins. Santorini is truly special and we can't wait to come back.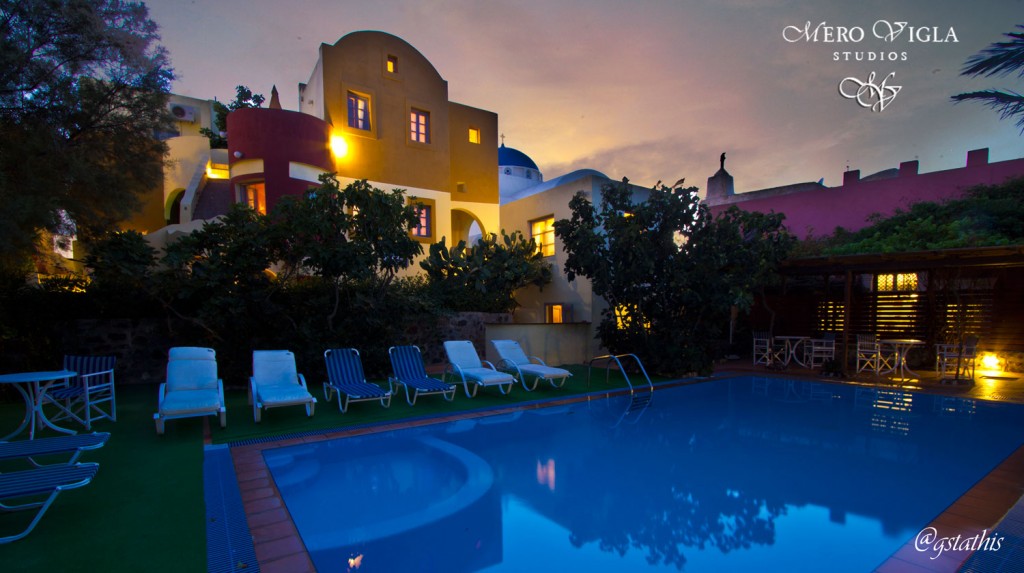 "Unexpected.. room with a sunset view.. great host great location"
This place is wonderful. I was unsure at first after reading previous reviews but I was completely surprised. Our room was clean and very spacious. We walked daily to fira from our hotel. The bus stop to Oia is out front as well it costs 1.80 euros to go and watch the sunset. However from our hotel which is not shown in the photos youcan see the sea and watchthe sunset from your balcony. Thats right you have a view of both sides of the sea from this hotel at a very reasonable price. Fantastic. They supplied a 1.5 litre btl of water upon arrival. I have read other peoples complains about the shower.. well it is what it is. The view and hospility and friends we made and this location far outways any negative. We ended up staying the entire 3 days here and we miss it already. For the money it is completely worth it.
"Friendly staff and excellent location!"
Katerina was a delight and made our time On the island easy and fun! Clean rooms and quiet location but near the nicest part of santorini in our opinion. Free and reliable wifi all over the hotel was also a huge plus.
"Wonderful place, wonderful customer service"
We stayed here for four nights. We had breath taking views, wonderful customer service from the family that runs the hotel and a great time. They had daily cleaning service that came and cleaned the bathrooms and made up the bed. The pool was refreshing and clean and overall the beauty was incredible. Huge fig trees grew all over the complex, vivid bougainvillea vines and a view from one of the highest points in the area.
It's close to the bus stop and it's close to a walking path that connects Imerovigli to Firostephanie and Thira. There are several nice restaurants all walking distance as well as grocery stores and a wonderful bakery. The staff at the hotel got us a mini bus on the day we left (there were four of us with big bags) and the driver took us all to the new port for departure for a good deal.
For further information here