Instead of description we present here some reviews from hotel guests.
Official hotel website: studios-paros.gr
Phone: 
Fax: +30 22840 28381
Book online: Book online Captain Dounas
"Thank you Anna and Stavros"
You made our vacation again so relaxing and we felt so welcome! Your hotel is always clean and well kept. I know you renovate it always before the season. White and blue.
To us the hotel location near the sea is wonderful. You can fall into sleep and hear the sea outside. There is something wild of the location but still the town is very near – only few blocks away.
Naousa is the loveliest place to me in Greek Island . And I have visited over 50 of them 🙂 I was in September there 3 weeks. First with my girl friends. And then 2 weeks with my husband. And in June with my 2 children.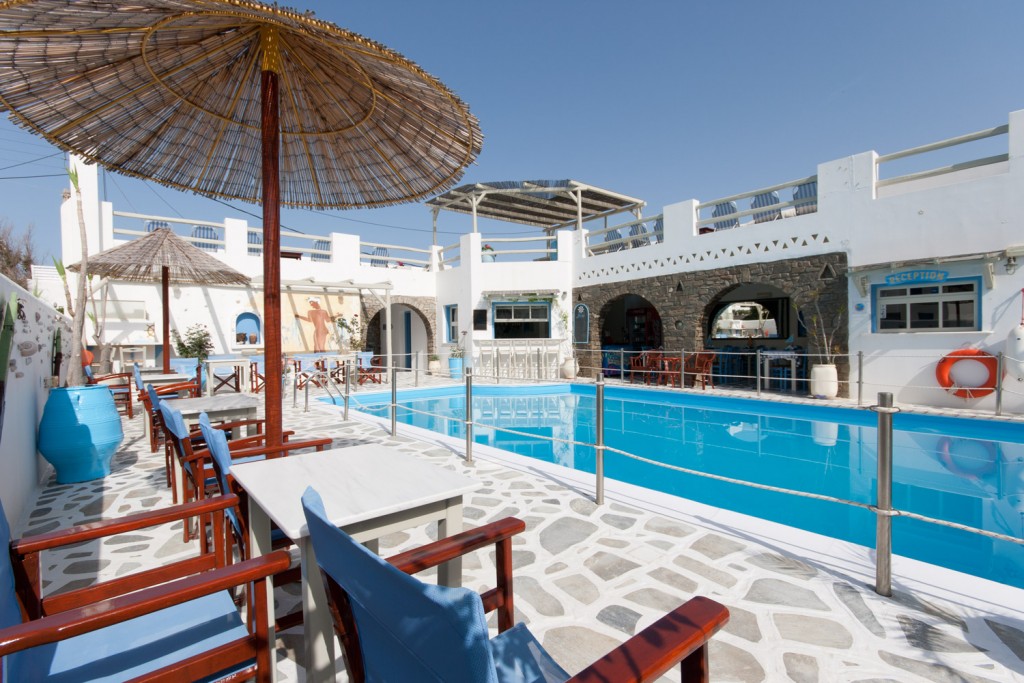 "Great balance between location, facilities and price"
The proximity to Noussa town and various beaches, the spacious and airy room, the spotlessly clean facilities (including an amazing pool), backed up with superb attention from Anna, made our stay at Captain Dounas an absolute win. We could not have asked for more and if we're back in Paros, we would look no further than Captain Dounas to check-in!
"Without a doubt one of the best places to stay in the Cyclades on a budget"
We were lucky enough to find Stavros at the port when we got off the ferry at Paros. We were honestly not expecting to be so happy with everything. Naoussa is certainly the best place to stay in Paros (possibly in the cyclades) and Captain Dounas was in the perfect locpacious and the bathroom by simple greek rooms standard more than adequate. The mini kitchen and lovely terrace were an added bonus along with the aircon and pool !! Would definately recommend these studio/apartments if island hopping or even for a week or twos holiday. You won't be disappointed.
"Highly recommended!"
Excellent location, set on sea very quiet..  two mins from town centre. Run by owner Stavros manager Anna. Facilities modern and in excellent condition….clean and well maintained. Great food, good value and fresh. Staff super helpful..and beyond the call of duty!  From organizing car hire to consulting on things to do, to finding the nearest doctor. I fell ill on holiday. In my delirium I forgot some items in my room…one call to Stavros and he came racing over with it to ensure I would not lose my connections. And wouldn't even accept payment. It is hard to praise Captain Dounas highly enough!