Instead of description we present here some reviews from hotel guests.
Official hotel website: www.hotelmikrivigla.com
Phone: +30 22850 75241 – 29261
Fax: +30 22850 75240 – 29264
Endlessly friendly reception
The two girls at the reception were so helpful I decided to create an account and write this review to thank them for their resourcefulness and friendly smile! Excellent hotel for water sports. Ask for a room with sea view.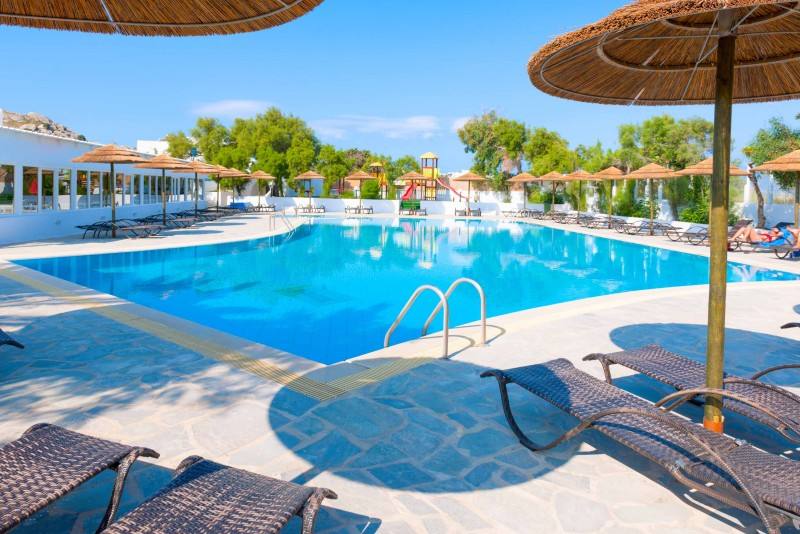 Nice and peaceful
Really enjoyed our stay at Mikri Vigla Hotel. The room was really clean, with a great bathroom and waterpressure. The hotels swimming pool was really fun to goof around and order some drinks from the poolside bar, Staff was very kind and helpful. Breakfast was a decent Greek buffet breakfast that kept the hunger away for several hours. The beach is just a step away from the hotel area, excellent for kitesurfing, windsurfing and snorkeling when it´s not too windy.
Great environment one step away from the water sports
Being regularly in hotels, I guess a good staff can make the difference and that's the case of this hotel. People who work there are very kind, ready to serve and they pay attention to everything you say. I've been very well treated and everything went so well.
A lovely stay
We wanted a place by a good beach for kiteboarding with plenty for my non kiting wife. This was ideal as it was right on the beach with a great pool and bar/restaurant. The staff were fantastic and couldn't do enough for us. They were a great help when the utterly inept British Airways managed to lose my kite gear. Nightlife in and around the hotel is quiet and limited to few taverns so if you are looking for peace and quiet its ideal. The rooms are kept immaculate. We would definitely stay here again. Thanks to all the Staff at the MV for a wonderful week.