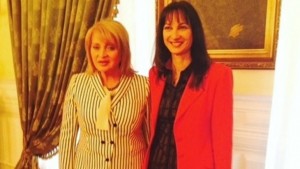 Further and strengthen cooperation between Greece – Russia was discussed by the Tourism Minister Elena Kountoura with Russian counterpart during her stay in Moscow where he is representing our country in the international tourism exhibition MITT 2015.
During her visit to the Russian Ministry of Culture, Mrs. Kountouras met with Culture Minister, responsible for tourism, Mrs. Alla Manilova, which welcomed warmly Greek delegation. During the meeting they examined issues of concern to both countries. Alongside Ms. Manilova reported extensively in 2016, the year of Greece in Russia and Russia in Greece.
In view of the celebration of 2016 agreed to convene a bilateral forum for tourism, with extended sides involving players from both governments, regions and business tourism to further strengthen bilateral cooperation.
Ms. Elena Kountouras stressed that in 2016 coincides with the anniversary of 1000 years Orthodoxy and Russian monasticism on Mount Athos and expressed the view that this will contribute even more to the further strengthening of pilgrimage and religious tourism, especially interest our Russian guests.
Earlier, Mrs. Kountoura inaugurated the Greek pavilion, attended by Deputy Minister of Defence Mr. Costas Isichou, the Ambassador of Greece in Moscow Ms. Danae-Magdalene Koumanakou and Consul General Mrs. Eleni Michalopoulou.
Then gave an exclusive interview to Russia 24 nationwide television station where she had the opportunity to invite Russian visitors to choose Greece as a holiday destination, to present the priorities of the Greek tourism and to report on the Greek votive initiatives for the year 2016.