Naxos is the biggest island of the Cyclades complex and distinguishes for its long-age history, that goes back to the Neolithic Period, and fertile land. Naxos has a ground of 440 sq. km and a shore length that stretches up to 148 km. Naxos is the most fertile island in Cyclades and is probably one of the most attractive and beautiful of the Greek Islands.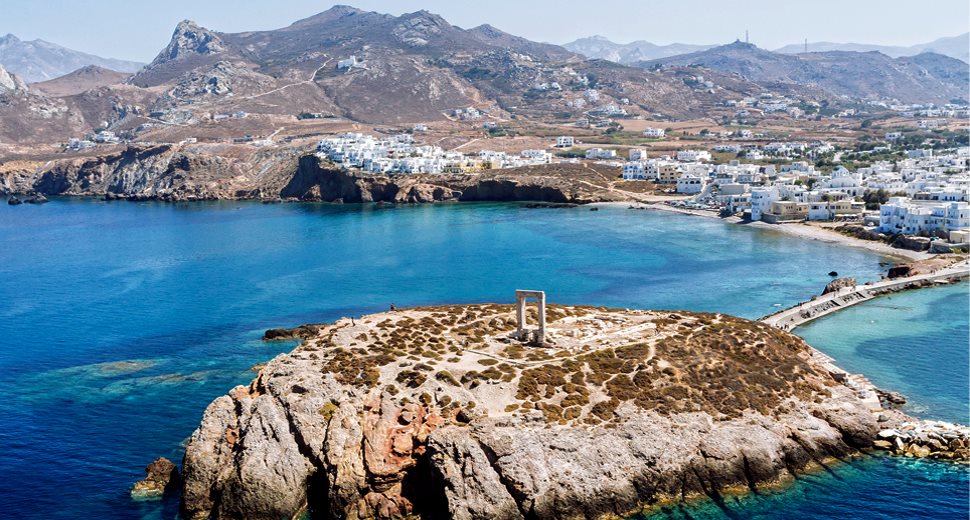 A tour around the island, at the archaeological and historical monuments, will reveal you Naxos history. A history linked to many legends, shattering historic events, pirate invasions, catastrophes and creativity.
The location of the island in the Cyclades makes it ideal for watersports.The agricultural production of Naxos is great, ranging from potatoes, cheese, meat and also citrus from which the famous citrus liquer and quality wine from ancient era up to today.
Naxos combines and offers impressive mountainous beauty, golden sands with crystal blue waters, a capital that comes out of the Venetian 15th century rule with a magnificent castle among the cycladic traditional white houses, a series of calm fishing harbours, Byzantine churches and several sites of extreme archaeological interest like the temples to Apollo and Dimitra and Iria among others.
Beaches: Saint Anna, Agiasos, Saint George, Saint Prokopios, Aliko, Amitis, Abram, Apollonos, Kalantos, Kastraki, Lionas, Small Vigls, Mutsuna, Orkos, Panormos, Plaka, Pyrgaki, Psili Amos.
Villages: Chora, Apollonas, Potamia, Apiranthos, Chalki, Koronos, Tripodes – Vivlos, Filoti, Koronida, Skado, Agios Arsenios, Agidia, Keramoti, Engares, Ganakos, Galanados.
Worth Seeing: Naxos Town Castle, Portara, Iria, Archaeological Museum of Naxos, Agias Tower, Demetra Temple, Panagia Drosiani, Chimaros Tower, Melanes, Panagia Protothrone, Bazeos Tower, Sangri, Agios Mamas, Kalamitsia, Tower of Belonia,
Activities: watersports, sightseeing, hiking….