Instead of description we present here some reviews from hotel guests.
Official hotel website: www.hotel-senia.com
Phone:
Fax: +30 22840 51971
Book online: https://senia.cosmores.com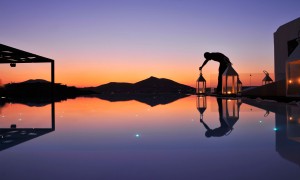 Great place to stay on Paros
Was upgraded to a suite which was several levels above what I reserved. Room was fabulous and the staff were helpful with everything from laundry to where to eat dinner. Beach just straight down the stairs and town a very short walk to shopping and dining.
Exceptional
We spent such a wonderful time at Senia, beautiful hotel amasing terrace with the beautiful swimming pool, lovely room. Wonderful staff.
Wonderful hotel and the best breakfast in Naoussa
We stayed at Senia for 9 nights in June/July 2013. We were a party of 10 people. Eight teenagers and my sister and me. This was our 14th time in Naoussa. This is really one of the best hotels we have stayed in. It is absolutely the best breakfast on the Island. We also had two dinners there and the food was very good and tasty.
Theo and his team is absolutely fantastic. They were very nice and patient with our teenagers that felt this was the best holiday they have ever had.
The rooms are nice and clean and they have a stunning pool. The hotel also has a private beach.
The location is also very good not far from the port and the center of Naoussa.
We would absolutely like to come back.
Amazing hotel!!!
Senia is a beautiful hotel, with wonderful view at the sea and amazingly friendly personnel. The manager of the hotel is very nice, friendly and works with great professionalism. He gave us lots of advice regarding places and restaurants to visit and he hat right every time.
Our room was made of white minimal stone-look construction, which fits perfectly to the island´s unique style. It was fully equipped with new devices (TV etc) and probably the cleanest room we have visited in Cyclades. The pool is just amazing. Every day we would spend our mornings at the amazing hotel-breakfast-buffet and then at the pool. The breakfast is perfect, we really missed absolutely nothing!! We were on our honeymoon and as we arrived our room was amazingly decorated by the hotel with flowers, balloons and a bottle of chilled wine!!! The hotel is only 5 minutes walking from the center of Naousa, but without the noise and limited space you usually find in hotels located at the center. We were so amazed by the great service and the beauty of the hotel!All the people working there (the managers, the chef and hotel personnel) made us feel like a family during our stay and this will none of us forget. We know for sure where we´ll be staying the next time we visit the beautiful Paros!!! THANK YOU.