Instead of description we present here some reviews from hotel guests.
Official hotel website: www.spiliotica.com
Phone:
Fax: +30 22860 23590
Book online: https://spiliotica.cosmores.com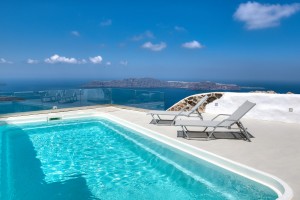 Once in a lifetime views
Above all else this hotel should be booked for its views, other than a view of the blue domes out over the caldera in the village of Oia, the view from this hotel is the best on Santorini. And the breathtaking views are what you come to Santorini for! I cannot imagine coming halfway around the world and then getting cheap and not staying on the caldera side – I love to save money as much as I can, but that would be a huge mistake! The location was spectacular and the entire hotel is basically outdoor with a tiny closet size reception room and then each individual room is built into the cliff with its own balcony that connects to the rest of the rooms on that level. It was superbly clean and had a lounge area (breakfast area in the a.m.) that was private for hotel guests and was just perfect for watching the sunset later. Just above it is a bar/cafe that is open all day and is great for getting a snack. The Blue Note Restaurant (owned by Spiliotica) has just splendid views with a picturesque church tower in the foreground and simply excellent cuisine.
Great, Beautiful, very Friendly and Gracious!
Loved the Caldera Suite for me and my daughter and Husband! The view, the hydro-pool, the terrace, the suite, the entire staff…SO LOVELY 🙂
Best view on Santorini
What a view! That is what we wanted, and that is what we got. The price approx 160 euro per night. It's not luxury and the pool is not welcoming, but sun decks are nice. Great for budget minded travelers who come to Santorini for the amazing views. Cleaning and staff were so nice and worked very hard. thank you
Simply amazing!
Lovely hotel with breathtaking view! We stayed 2 nights at Spiliotica and had a great time. Walking distance to Fira and right next to cheap car rental. We watched the world famous sunset either from our balcony or from the bar area.  Rooms were spacious and clean. Hotel staff was very friendly and helpful. Breakfast was simple but nice. We truly enjoyed our stay!