The Hotel is offering high-standard accommodation next to the beach to those wishing to enjoy the natural beauty of Naxos.
Instead of description we present here some reviews from hotel guests.
Official hotel website: www.hotel-galaxy.com
Phone:
Fax: +30 22850 22889
Book online: https://galaxy.cosmores.com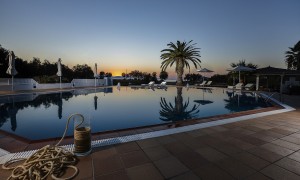 Perfection
How do you describe paradise? Galaxy Hotel has it all, location right on the beach and near Naxos township, extremely happy and helpful staff, very high standard rooms – with extremely comfortable beds- lovely breakfast, great internet ad a pool with many loungers. Not to mention the weather on a Greek Island. My advice is to stay here if you can!
Modern, Clean and Great Location
We arrived in Naxos after being in Santorini and Mykonos and we were pleasantly surprised by the quality of this hotel. The staff, Eleni at the front desk was very informative and diligent. Also Georgina, at the breakfast buffet, she was so friendly and energetic. Our favorite island is definetly Naxos!
High standard accommodation next to the beach.
The people who built it know exactly the meaning of Greek hospitality and respect. We are speechless. We think that everyone here is also. The activities are numerous. Perfectly equipped, kind and hospitable people.The room is awesome, modern furniture's, big and very comfortable bed, fridge, TV, air-conditioning. You must see the bathroom, is something else. Very modern with Jacuzzi, telephone and a hair dryer. The pool is big and very clean with very comfortable sun beds around. The dining room is wonderful; you can eat your breakfast there or at the pool bar, with variety of flavors. We have no words; everything is clean and attentive to the last detail.
Probably best hotel around these parts.
Very well decorated with original frescoes, from reception up to the restaurant. The room is incredibly decorated and equipped with all comforts, with extremely comfortable bed, satellite TV, air conditioning and a fridge. You will see an elegant and modern bathroom with detailed amenities, telephone, hair dryer, Jacuzzi. All areas of the hotel are very well decorated with original frescoes, from reception up to the restaurant. At the restaurant, you can taste local products with excellent service and ability to modify the menu. Also a unique experience of relaxation is the swimming pool, where you can relax with a refreshing cocktail from the pool bar.